The NSF100 and NSF250R were created to help fuel the dreams of all the junior riders striving to compete against the world. The 'NSF TO THE WORLD' concept incapsulates this idea, showing what the hard work of all of our combined efforts at HRC can accomplish alongside these bright young talents. NSF TO THE WORLD T-shirts and stickers are currently provided to all the riders participating in the NSF100 HRC Trophy and the NSF250R Challenge so they can share their passion and show what they are a part of. HRC is here to support junior riders who are flying to the world level.
From 2021, HRC plan to expand the scope of the NSF TO THE WORLD concept to include select NSF series around the world.
The age and results of each rider are as of the time of the interview (October 17, 2018).
The contents of Dani Pedrosa is as of the time of the interview (December 09, 2018)
The contents of Marc Marquez is as of the time of the interview (February 01, 2019)
MotoGP Legend Moto3 Moto2 IATC NSF Activities in Japan NSF activities around the world NSF TO THE WORLD logo utilization development
Toshiki Senda (#10), Takuma Matsuyama (#11), Naoki Yamada (#14)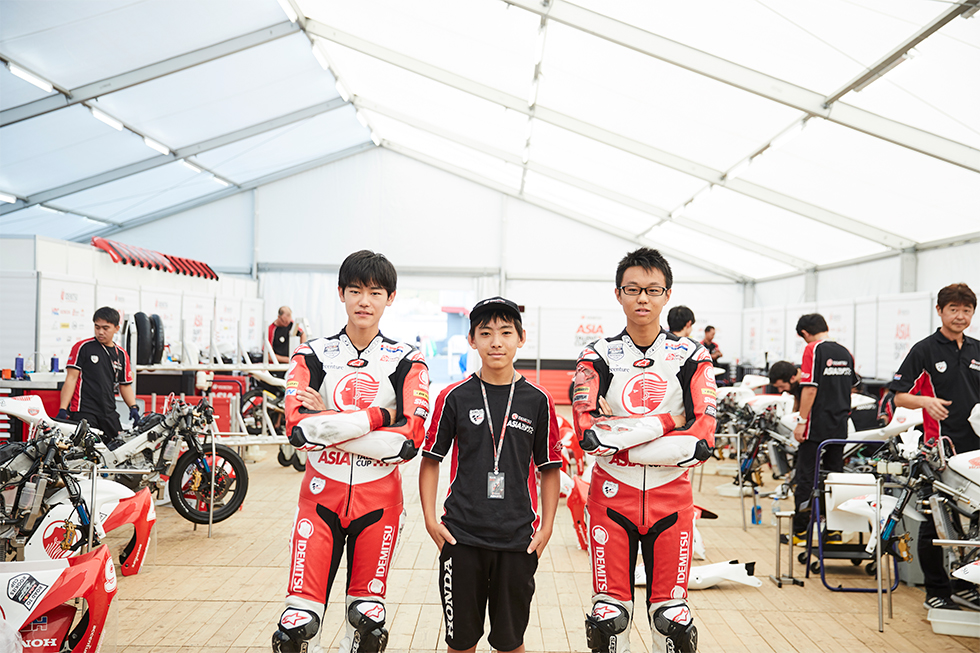 The IDEMITSU Asia Talent Cup (IATC) is a championship series operated by Dorna Sports SL, organizers of MotoGP racing, that begun in 2014 to nurture young riders in the Asia region, including Japan, Indonesia, Malaysia, Thailand, Australia and Turkey, where the popularity of motorcycle motorsports is booming. Meet three young Japanese former-NSF100 riders, who compete in the series now.
Why become a rider?
Senda: "My father was a motorcycle racer. He suggested, or rather convinced, me into starting as well. So, I've been riding since I was very small."
Matsuyama: "My father wanted me to learn something. One day we went to a race track, and seeing pocket bikes for the first time, he thought, 'Wow, my kid has to do this,' and that's how it began."
Yamada: "My father was racing on an NSF100, and I watched him a lot. When I was five, I saw a poster of a pocket bike in a bike shop, and told my parents that there was a bike that I could ride. That's how it started for me."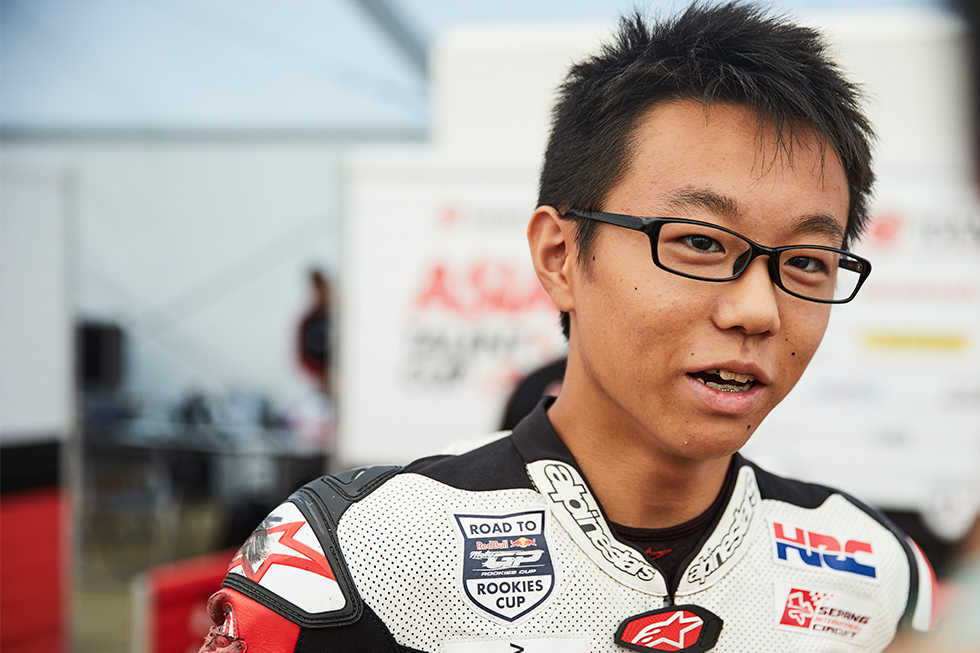 Lessons learned from the NSF100
Senda: "There are a lot of people you can compete with on a pocket bike. I raced Matsuyama in the NSF100 championship, and for me, it was a great opportunity to learn how to compete. He's small, so he's really fast on the straights. I practiced a lot so I could overtake him. I also prayed that he would grow up fast and gain weight."
Matsuyama: "I learned the feeling of always wanting to move forward. I've always braked too late because I want to get ahead, but that causes me to be late on accelerating, and a lot of the time I lose out on top speed. It's because I want to get ahead, but I think I realize my habits because I raced on an NSF100."
Yamada: "I'm the same as Senda. The NSF100 gave us great battle practice. Also when you learn how to control a slide on the NSF100, riding an IATC bike gets a lot easier. There are a lot of things I learned on the NSF100 that I can use now."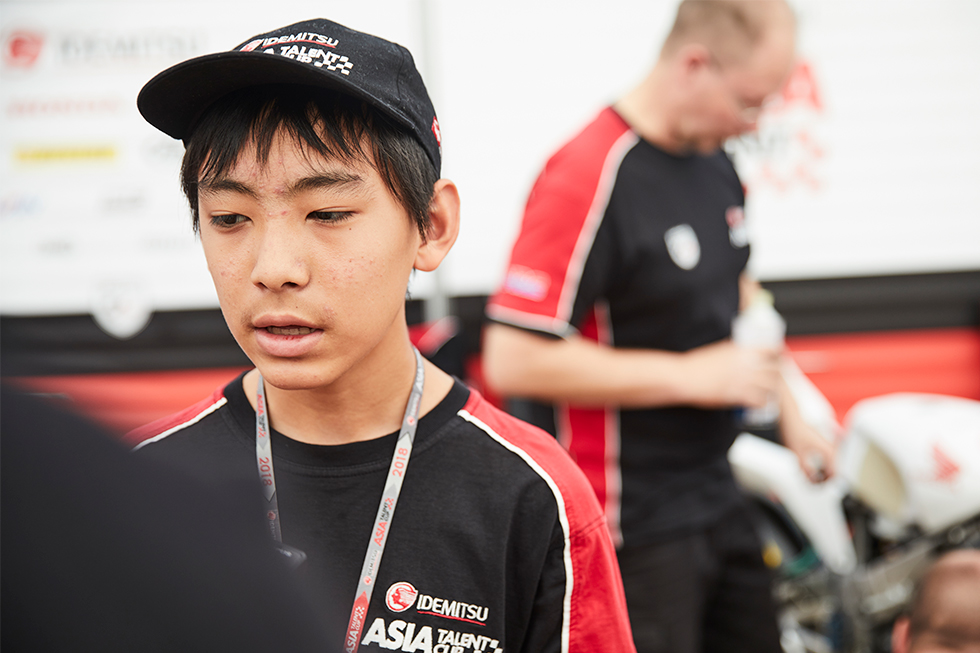 All three riders dream of becoming MotoGP riders. From the NSF100 to Asia, from Asia to the world. It may take a while for them to reach the pinnacle of motorcycle motorsports and race in the MotoGP class, but the passion in their eyes spoke volumes: they would become MotoGP riders.
After the interview, Matsuyama achieved a double-win at the IATC Japan round.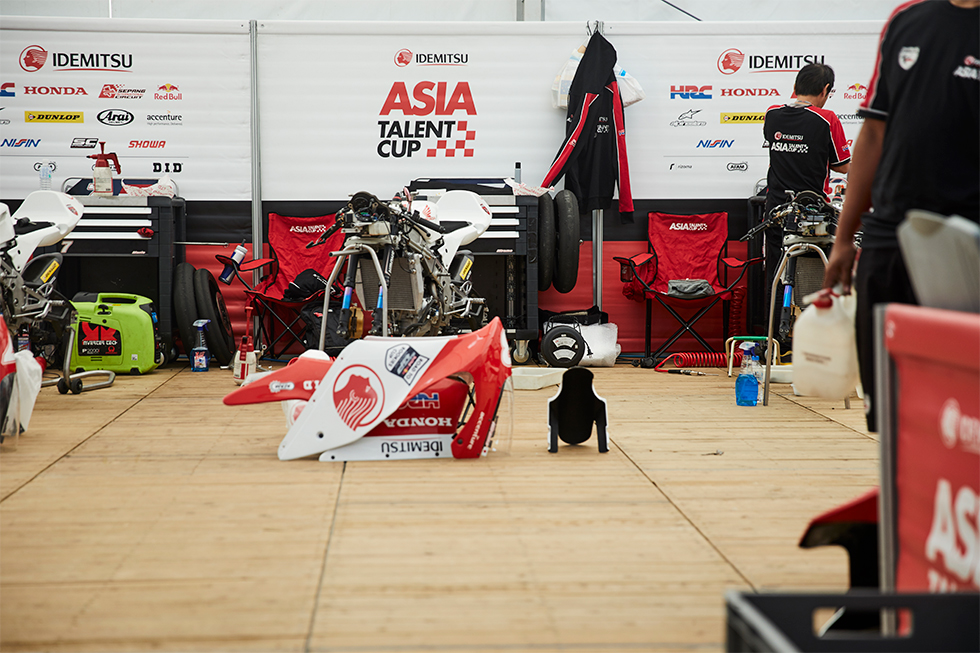 MotoGP Legend Moto3 Moto2 IATC NSF Activities in Japan NSF activities around the world NSF TO THE WORLD logo utilization development
HRC racing motorcycles are made for competition use ONLY, and are NOT covered by warranty and NOT to be ridden on public roads.
All specifications are subject to change without notice.
Please consult your authorized Honda motorcycle dealers.
HRC products are not available in all countries. Please check with your local dealer on parts availability and ordering procedure.