The NSF100 is a small-displacement, fully-cowled racing bike powered by a 100cc 4-stroke engine. Sold by HRC, this bike is packed with the company's experience and technologies gained through years of racing in the world's premier championship, MotoGP.
The NSF100 is currently sold throughout the world for aspiring riders, dreaming of competing on the world stage as MotoGP riders.
Meet the riders who have done just that: former NSF100 riders now competing on the world stage.
Marc Marquez, winner of his fifth MotoGP class title in 2018, and Dani Pedrosa, loved all over the world for his 18 years of world championship racing, share their passion for the NSF100.
* Rider age and achievements current as of October 17th, 2018.
* Dani Pedrosa's achievements current as of December 9th, 2018.
* Marc Marquez's achievements current as of February 1st, 2019.
>> Marc Marquez – #93
The youngest grand prix winner in the intermediate and premier MotoGP classes, the youngest world champion, and five-time winner (of which three are consecutive) of the MotoGP championship, Marc Marquez has had an outstanding career so far. In the 2019 season, Repsol and Honda celebrate their 25th year of a successful partnership, while Marc aims for even more wins and the championship title. The undisputed champion in modern times is also another rider in love with the NSF100.
A message to the next generation riders
Marc's riding style takes him so low into the turns that not only does his knee scrape the asphalt, but sometimes, so does his elbow. For his riding style, Marc recommends the NSF100 to young riders.
"Of course the torque is not like a MotoGP's. But if you go with the very small shape, the feeling is very similar. You can lean the bike and you can ride with the elbow down. So it's the bike that you learn many many things because you need a lot of corners with speed."
Marc spent off-season in an unusual manner: in December 2018, he underwent surgery for his left shoulder, which had a habit of dislocation. Although the surgery was successful, he would have to spend six weeks resting. He had a unique way of training, given the circumstances.
"As you know I have a NSF100 Honda bike and I enjoy a lot of riding. After my long recovery, I used the bike to get the feeling again. I used the bike NSF100 to be back on MotoGPs."
>> Dani Pedrosa – MotoGP Legend
Dani Pedrosa, with 112 MotoGP podiums including 31 wins, became the 29th rider in history to be inducted into the MotoGP Legends Hall of Fame. In spite of his small frame, Dani's riding style on MotoGP monster bikes mesmerised spectators, and earned the love of motorsports fans worldwide. He was often injured, but nonetheless managed to overcome difficulties to fight hard in every race. Dani, MotoGP legend, is another rider in love with the NSF100.
It's the ideal bike for training. Each time I wanted to try out a different riding style, I would first ride the NSF100.
It's easy to set up, so I don't need a mechanic to adjust my bike. I rely on it a lot, because I can use it for testing all season.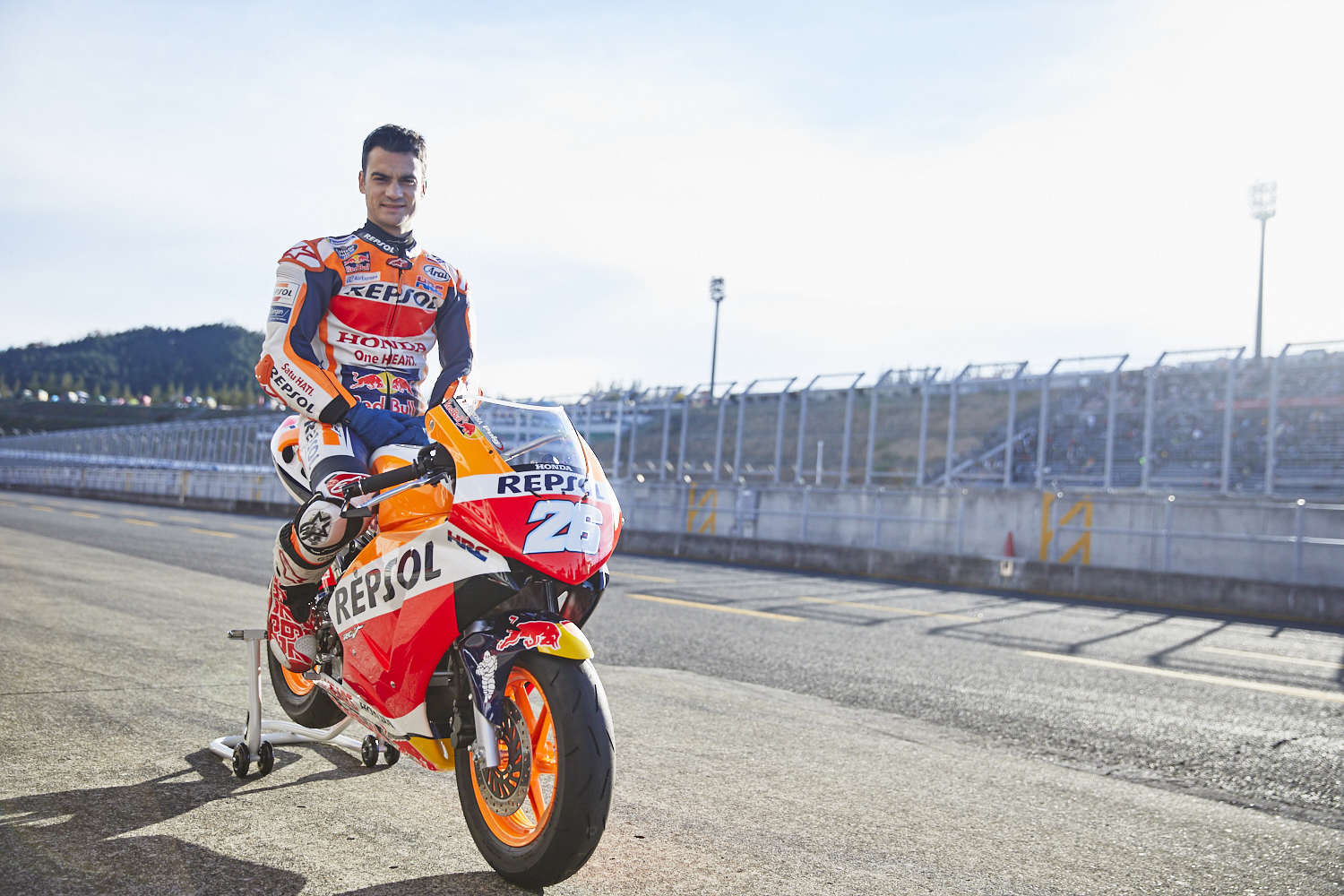 The appeal of the small-displacement, fully-cowled NSF100
Although this bike is small, it has the same gear shift pattern as a MotoGP machine. That's why it's perfect for young riders to learn on. It has a small engine and a low speed range, so you don't have to go to a race track, but can practice at a kart track instead.
A message for riders aspiring to challenge the world
"If you want to compete on the world stage someday, you have to keep on practicing. The most important thing in the world of racing is to keep on pushing, no matter how much you think you have improved your speed and technique. Everyone has different rates of improving, but as long as you keep on dreaming and keep on pushing, I believe that one day, you'll be able to get to where you want to be."
>> Moto3
Fabio Di Giannantonio (#21)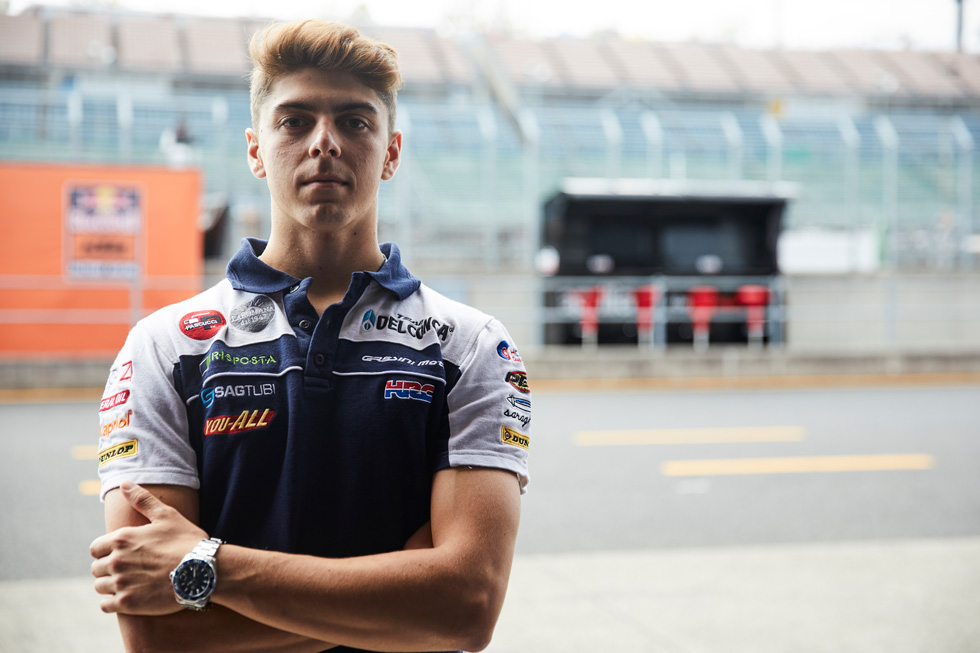 Known as "Diggia" to his friends, Fabio Di Giannantonio is a 21-year-old Italian rider born in Rome. In his third Moto3 World Championship season in 2018, he is currently ranked third with six podiums (including two wins) as of the end of the Malaysian Grand Prix, and is considered a prodigy with a very bright future. When did he start riding?
"My father was a huge motorsports fan, so videos of races would always be playing at home. When I was five, we decided to try out pocket bike racing, and I began competing in the Italian championship, and the NSF100 championship. At first it was like a game to me, but as I continued, I grew a passion for racing, and then decided I wanted to spend my life racing."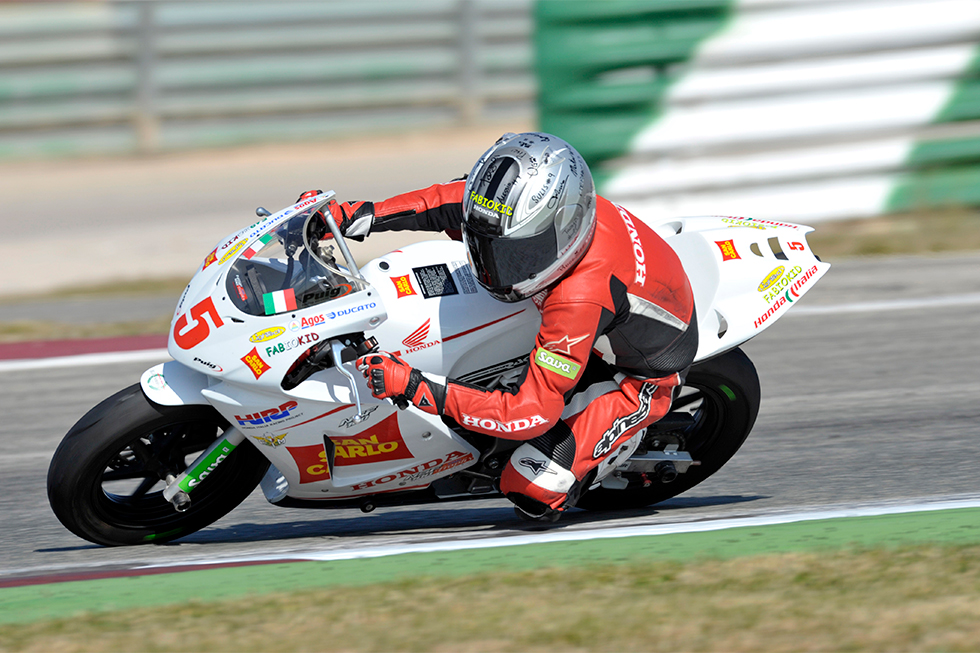 The attraction of the NSF100 championship
"The NSF100 championship I competed in is one-make racing, meaning all riders compete on identical bikes, which was what I found attractive. You have to push harder than anyone else to win. Since the bikes are the same, rider skills such as cornering and speed in the straights make the difference. I'll never forget the elation I felt the first time I recorded the fastest lap on an NSF100."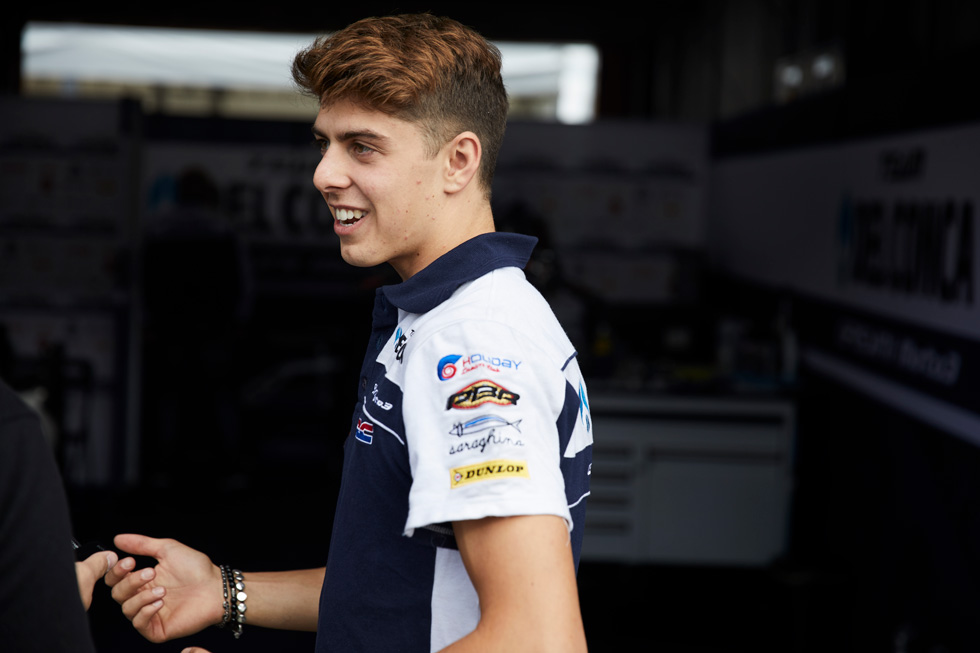 Advice for novice riders in one-make races
"I think every rider competing in the NSF100 championship are there to grow, because there are a lot of young riders in this category. It's a wonderful environment, competing with other riders and growing. I learned the importance of pushing with this bike, and then set my sights on always winning. The accumulation of this experience is what led me to the stage I'm at now. I hope everyone will focus on winning."
Kazuki Masaki (#22)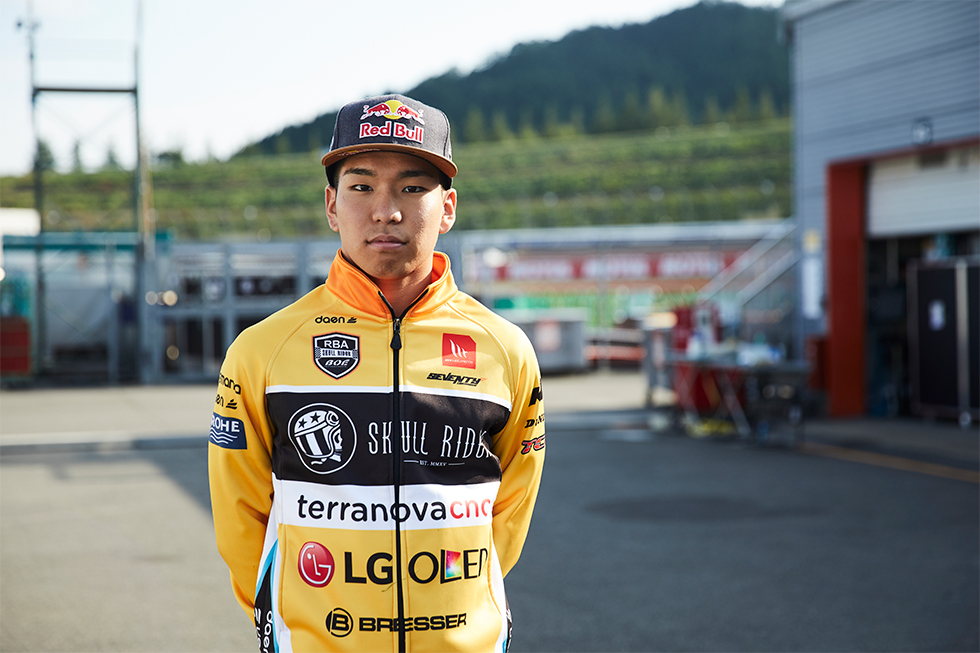 Kazuki Masaki is an 18-year-old rider from Fukuoka, Japan. On his father's advice, he started riding at a young age. Before he knew it, he had won the MotoGP Rookies Cup in 2017, and had secured a seat for the Moto3 World Championship the next season. Now, he stages fierce battles with riders of similar age in the Moto3 class.
"My father's hobby was riding motorcycles. He apparently decided before I was born that I would be a rider, and started me when I was 3 years old. First I didn't like it, but after two years, I fell in love with the sport."
Rivals close by
"Most Moto3 riders are around my age. Kaito Toba and Ayumu Sasaki, and Ai Ogura who will be joining us next year, are all my age. Toba and I are even from the same place, and we've been racing each other since our pocket bike days, so I'm determined to beat him, especially. Looking back, I've always had a rival."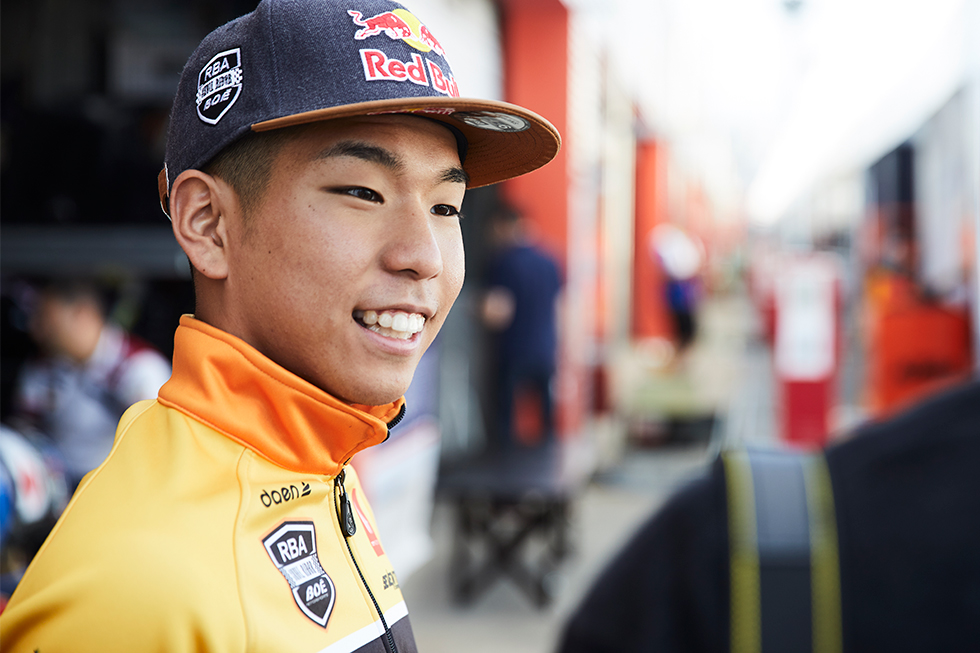 Techniques honed on the NSF100
"The NSF100 handles fast and has good grip, so it was great for me to practice my skills such as braking at the limit and sliding in the turns. I still practice some of my skills on an NSF100. Riding on a big bike on a big track, weaving through the bends I get slower and slower, so I practice my cornering skills on a lightweight bike like the NSF100.
Kaito Toba (#27)
Toba says the desire to become a rider dawned on him at a very young age. He was then on the path to becoming a racer, and in 2017, began his career in the Moto3 World Championship. Under the supervision of HRC team manager Hiroshi Aoyama, a former MotoGP rider and current HRC test rider, he now competes with riders from all over the world.
"Since I was small, I liked sitting behind my father when he rode his bike. After a while, though, I got bored, so I asked for an electric pocket bike for Christmas. I went to the park to ride it, but after a while, got bored. I can't recall, but my parents tell me that I kept on saying I wanted to ride a bike with an engine. They did some research for me, and ever since I was introduced to the NSF100, there was no turning back."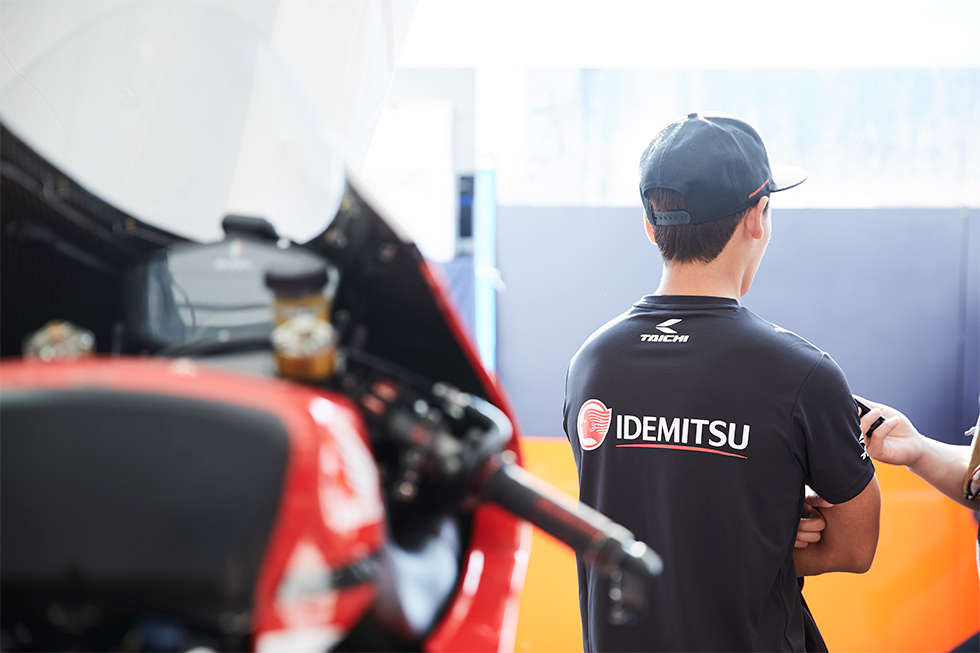 The bike that started his championship career
"The NSF100 is why I started racing in championships, including the grand championship. My first ride on even large tracks like Suzuka, was on an NSF100. It taught me the basics, such as how to ride, body movements, and positioning in large groups. A lot of MotoGP riders train on an NSF100."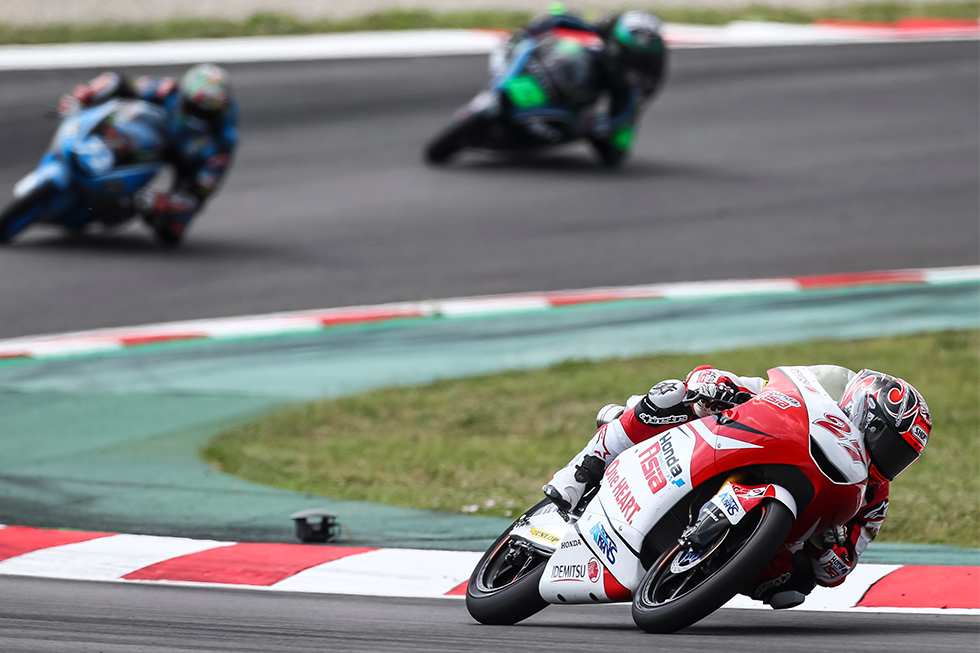 A message to aspiring riders
"Since I was small, I've always enjoyed myself when I was riding. And I've always wanted to ride faster. I've practiced for a long time on the NSF100, and as long as a keep on riding, always aiming higher, the day will come when I can race on the stage that I've dreamed of."
Aròn Canet (#44)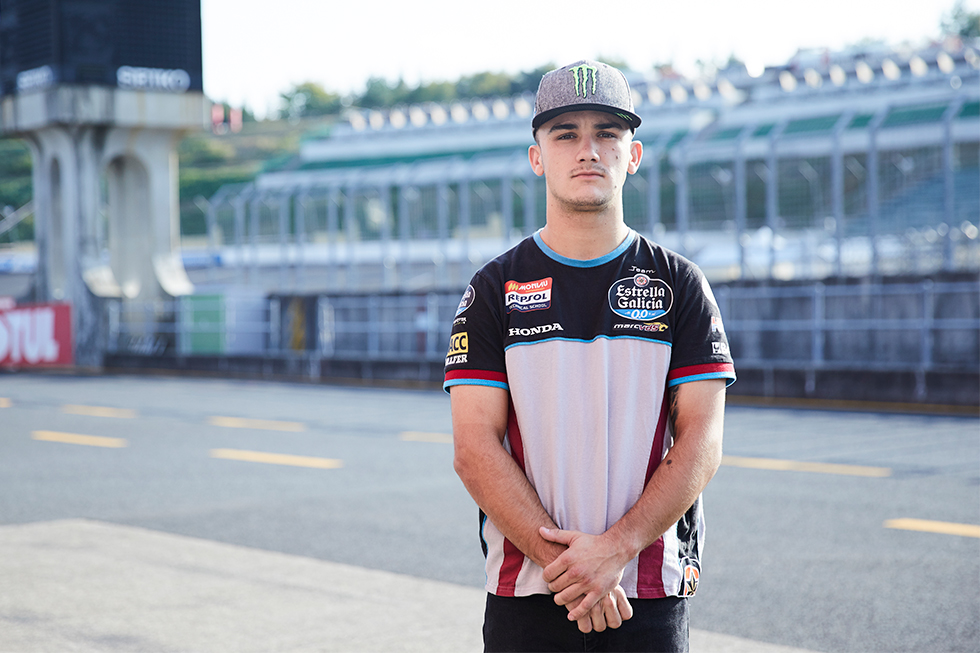 Aròn Canet started racing in the Moto3 World Championship at the age of 16. In 2017 he won three races, and was ranked third. In 2018, he has been on the podium four times, proving himself to be an outstanding young rider. The Spaniard, still only 19, says he chose to start riding at a very young age.
"The first time I rode, I was four. I raced in the Spanish cart championship because of my father's influence, and I loved motorsports for as long as I can remember. One day my father gave me a cart, but I loved bikes more, so I asked for a pocket bike instead. I don't recall that, but I've always been more comfortable on a bike, and I've been riding ever since."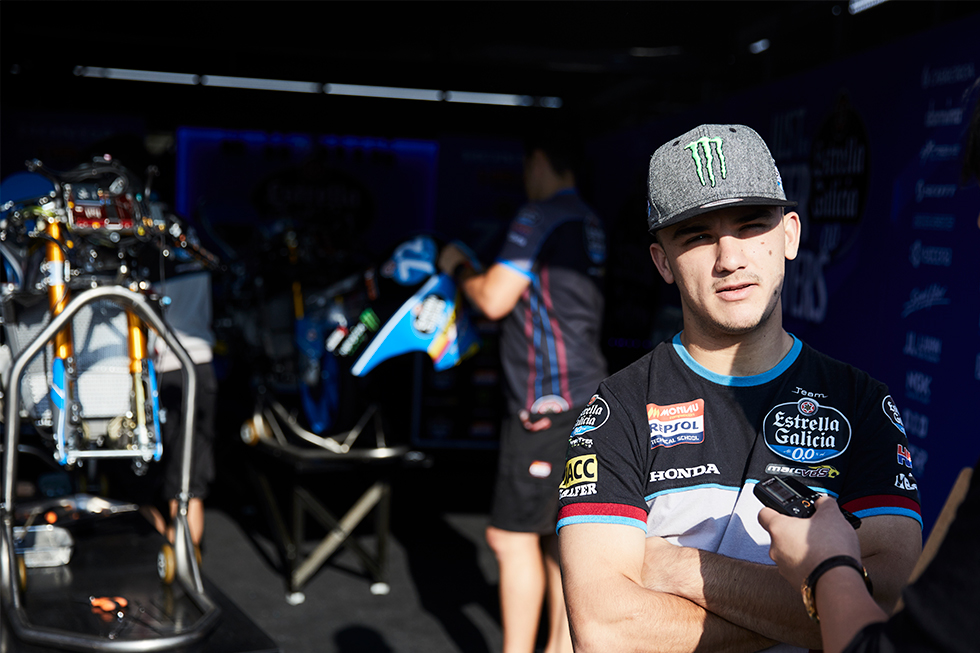 An unforgettable race on an NSF100
"I think it was during a European championship on an NSF100. There was Stefano Manzi, now a Moto2 rider, and Nicolò Bulega and Albert Arenas with whom I compete in Moto3. I set the fastest time in qualifying. The race was close, but I managed to pull ahead on the final lap. I had such a n amazing feeling of achievement."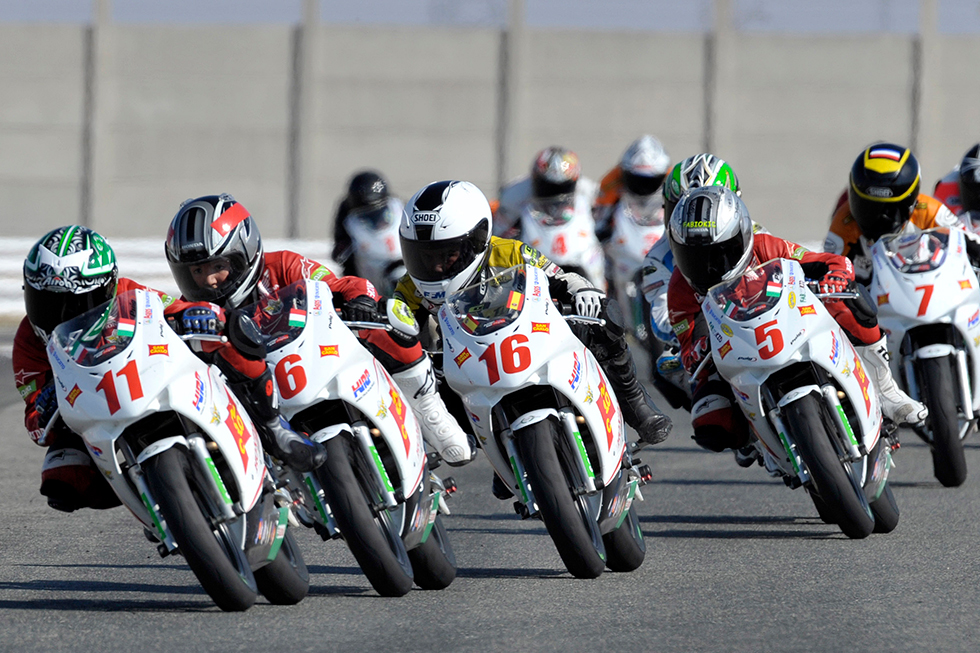 What hasn't changed since childhood
"When I was still small, I wanted to compete in the world championship someday. Since then I have tried hard to make that dream come true. Now my dream has become 'I want to win the world championship.' Looking back, I've always had a dream. I hope everyone riding on an NSF, aiming to compete in MotoGP, will keep on dreaming."
Ayumu Sasaki (#71)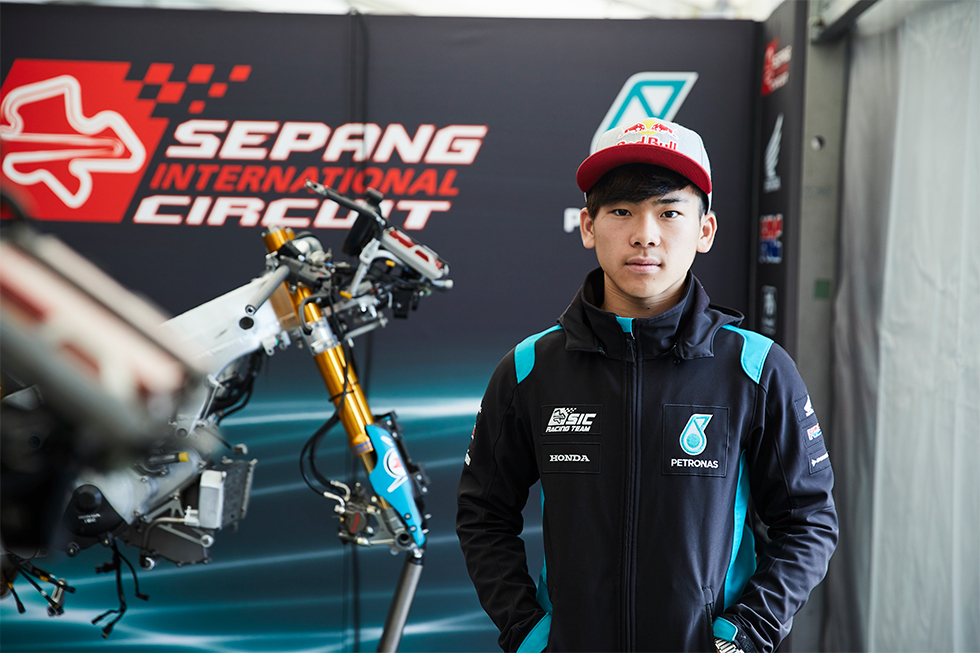 The 17-year-old from Kanagawa, Japan, is one of the Japanese riders challenging the world stage. In 2016 Sasaki became the first Japanese rider to become the Red Bull MotoGP Rookies Cup champion, and began racing in the Moto3 World Championship since 2017. In 2018, he has secured two front row starts to date, displaying fierce speed when it counts, despite being in only his second year in the championship. Sasaki's first bike was a pocket bike from his grandfather.
"My grandfather and my father both love racing. My first bike, called 74daijiro, was a gift from my grandfather. I rode it for a while, and when I had the urge to ride a 'bike with gears,' the NSF100 seemed to be the best choice."
What Sasaki gained from the NSF100
"Out of all the pocket bikes, the NSF100 is the closest you'll get to a Moto3 machine. It looks similar, and the riding position is similar as well. I think riding an NSF100 helped me to compete in Moto3. I still ride it for offseason practice. It was a big leap from 100cc to 250cc, but my riding position and style were more or less honed on the NSF100, so it was just a matter of getting used to the speed. It was a relatively small step to take."
What hasn't changed
"Since long ago, I have always raced to win, no matter what kind of race, no matter the results. Even in practice, I've never thought 'I'll only put in half an effort,' but have always given my 100%. That's what the NSF100 taught me when I was small. It's hard to win in Moto3, but as long as I keep on giving it my best, I believe I can win."
Albert Arenas (#75)
Albert Arenas is a 21-year-old rider from Girona, Spain. Through his father's love of motorsports, he had become a spectator of MotoGP racing from a very young age. In his fourth season in the Moto3 World Championship, Arenas has won two races so far this year, and is ranked 9th (as of the end of the Australian Grand Prix), and is a rider who shows promise for a successful career.
"My father loved MotoGP, and he would always take me to see the races. His friend had a bike shop, and one day he let me ride a pocket bike. I remember having so much fun. I then started motocross riding on a 2-stroke bike. I stuck to motocross for a while, but switched to road racing after an Italian bike company made me an offer. So I also started competing in the NSF championship."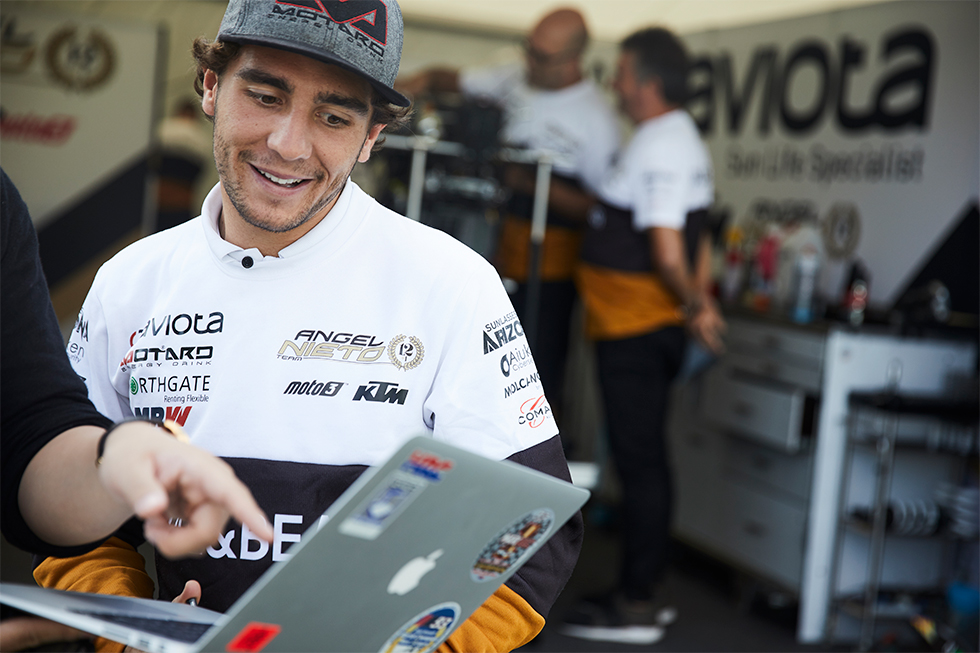 Why the NSF100 is so special
"The NSF100 is the first 4-stroke bike I rode, so I remember it well. It's very easy to ride, and you could say I learned everything I know about the fundamentals of road racing bikes from it. Like how to do the turns. I competed in the NSF100 championship, but it was a very difficult category, as all riders were on identical bikes. It gives every rider an equal chance, as everyone's bikes are the same. Another thing special about the NSF100 is that there are NSF100 championships all over the world."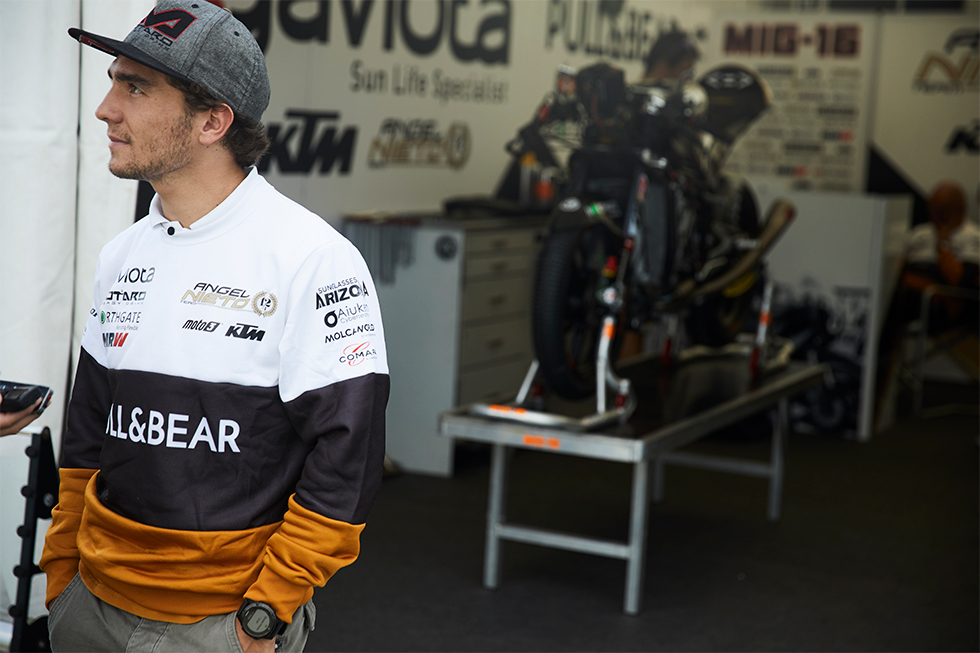 The key to becoming a successful rider
"I think it may be difficult as a rider, but enjoying the race is what is important. If you can sincerely enjoy racing, everything goes in the right direction. It's important to focus on winning each race, but by having a larger perspective, everything will be clearer. That's what happened to me."
>> Moto2
Luca Marini (#10)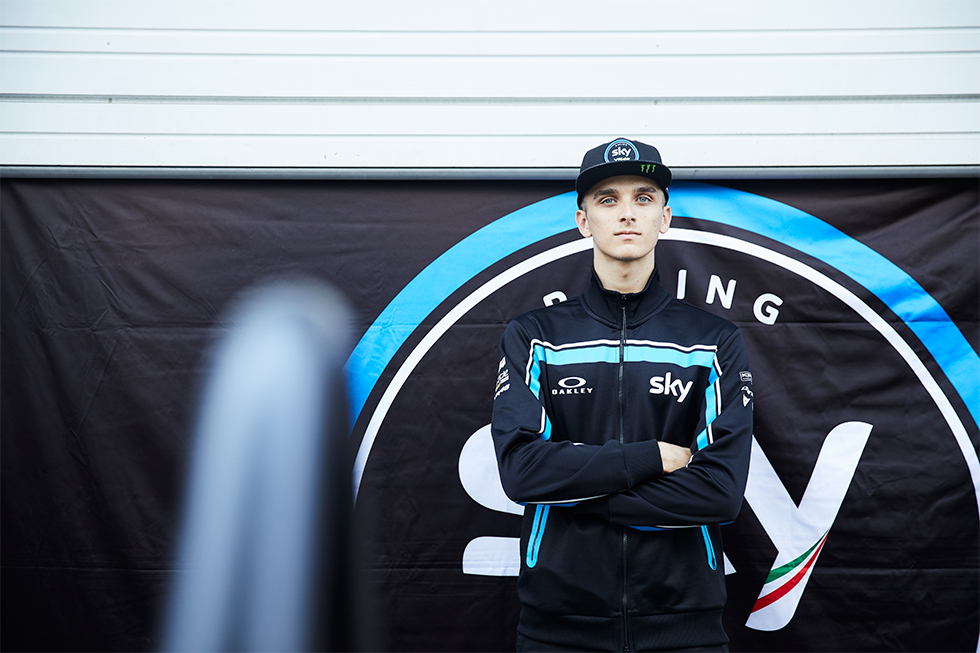 Luca Marini, a 21-year-old Italian rider from Urbino, became mesmerized as a small child when he saw other children riding pocket bikes. He is now in his third year of Moto2 World Championship racing. Every day, he gets closer to realizing his dream of racing in the premier class.
"When I was small I lived in a town called Cattolica, and there was a race track very close to my house. I saw kids of around my age riding on pocket bikes, and told my parents 'I want to do that!' I think that's how it all started. Once I started riding, it was so much fun, and I couldn't stop."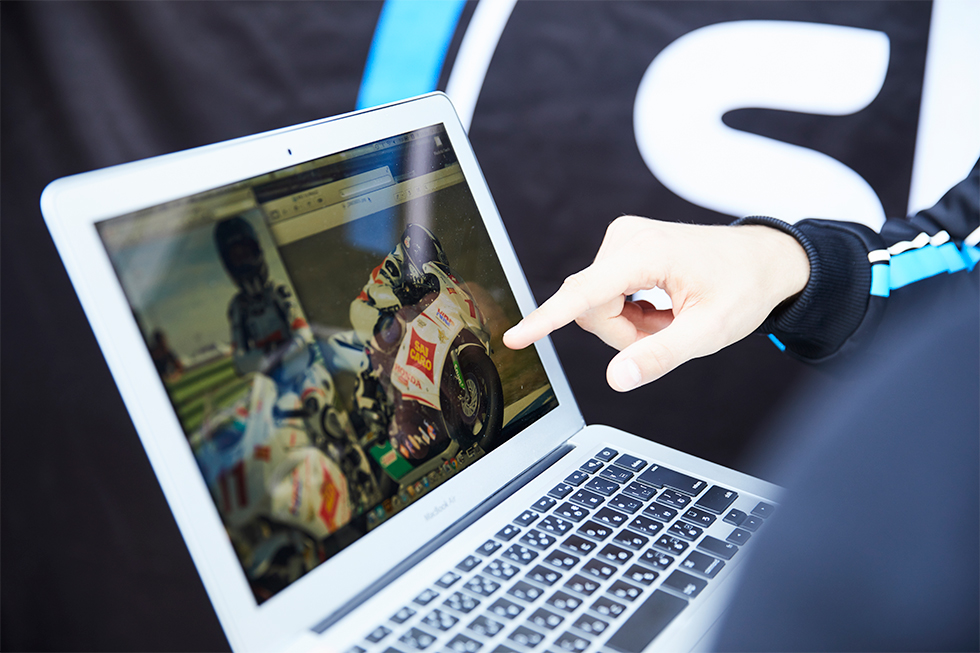 Why the NSF100 championship is attractive
"I believe it was the perfect 'school' for young riders. With many riders racing each other on identical bikes, they could concentrate on perfecting their own riding styles. The bike was very easy to ride and was comfortable, and above all was very similar to Moto3 bikes. For me, aiming to compete in the world championship, competing in the NSF100 championship was an ideal step."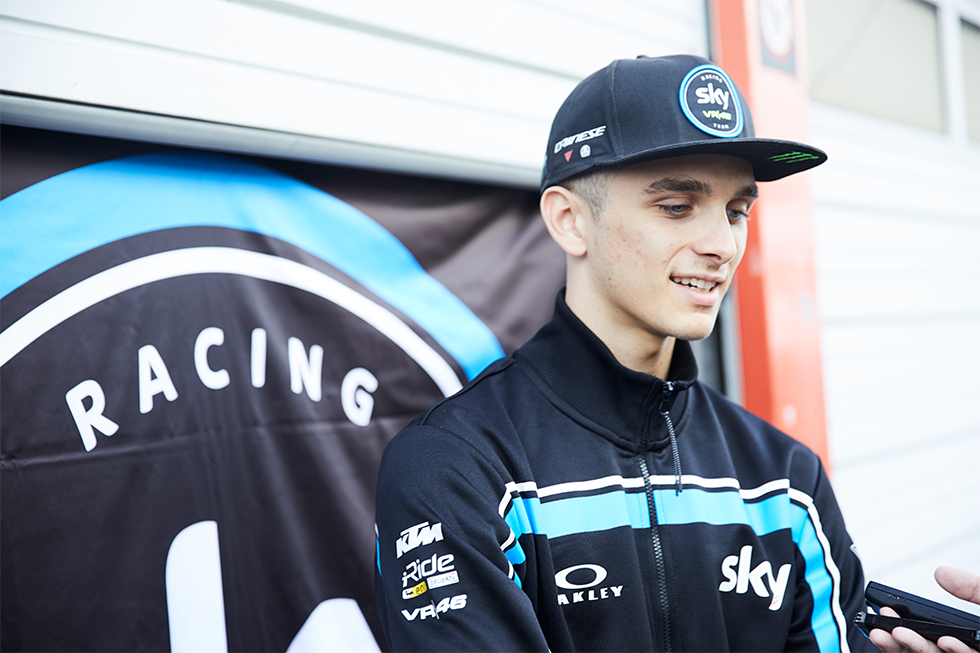 What hasn't changed since childhood
"Being able to do something you love for a living, that's really special. But to do so, you have to keep the passion, and do your best all the time. If you want to compete in the world championship some day you have to train hard everyday, and you have to try to understand your bike really well. It's tough, but it's worth it. Becoming a MotoGP rider is one of the most special jobs in the world."
Stefano Manzi (#62)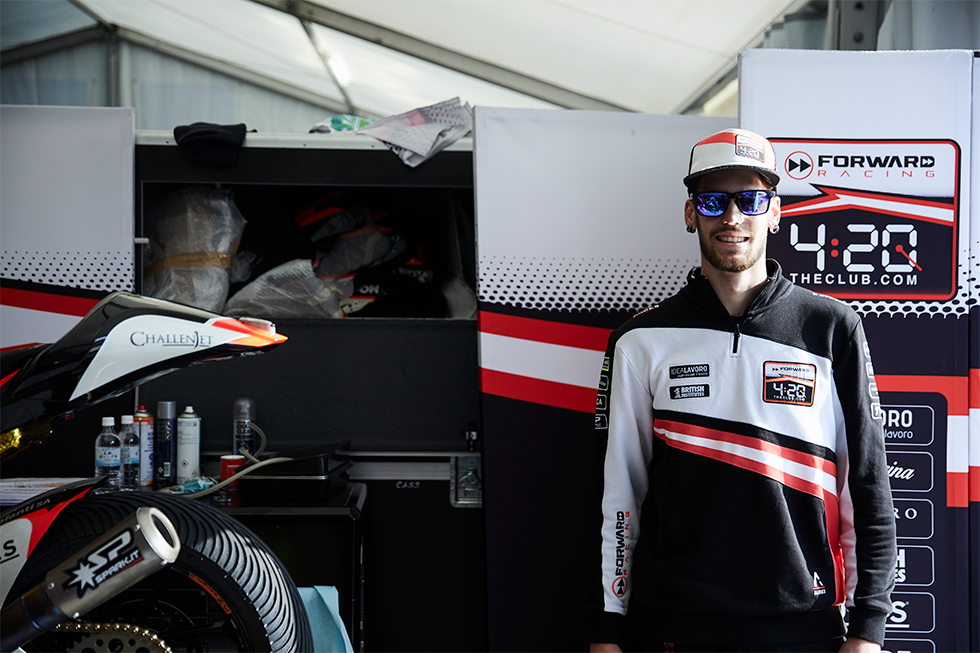 For Stefano Manzi, born into a family with a father and brother well-versed in motorsports, it was perhaps inevitable that he chose the path of becoming a rider. He began his Moto3 career in 2015, and moved up to Moto2 in 2017, where he races now. He has an unwavering, unchanged passion for competition.
"I was born into a racing family. My father was a motocross rider, and my brother competed in the Spanish road racing championship. With a family like that, it was only natural the I rode since I was small."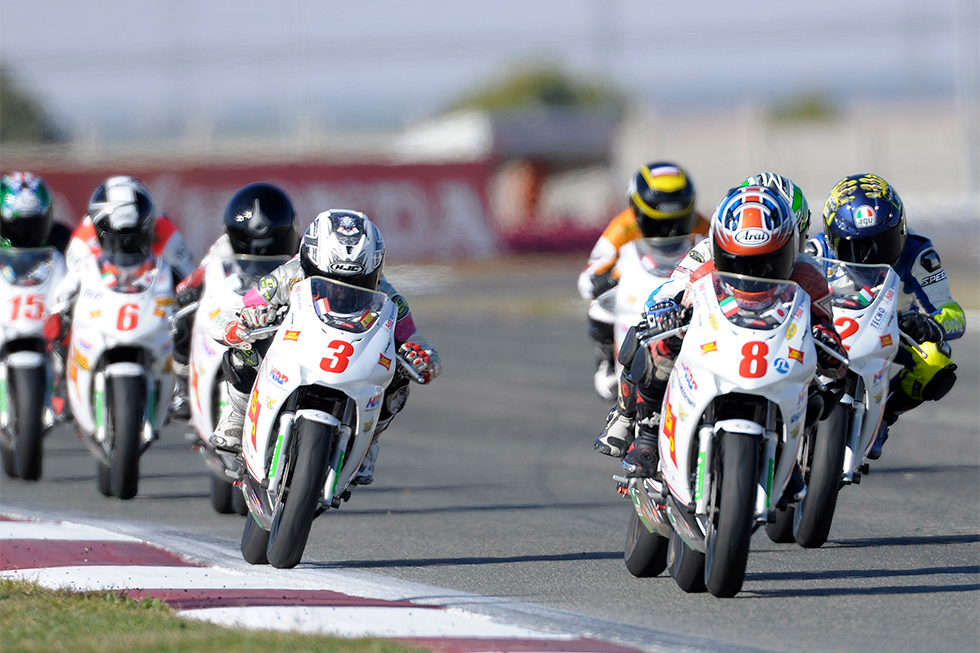 Why the NSF100 is attractive
"The biggest difference between the NSF100 and other pocket bikes is that it is a 4-stroke. I won my first championship on this bike, so I share a lot of memories with it. For a kid rider, it was perfect to learn how to ride. It's a 4-stroke bike, but the engine is so small that it's easy to ride."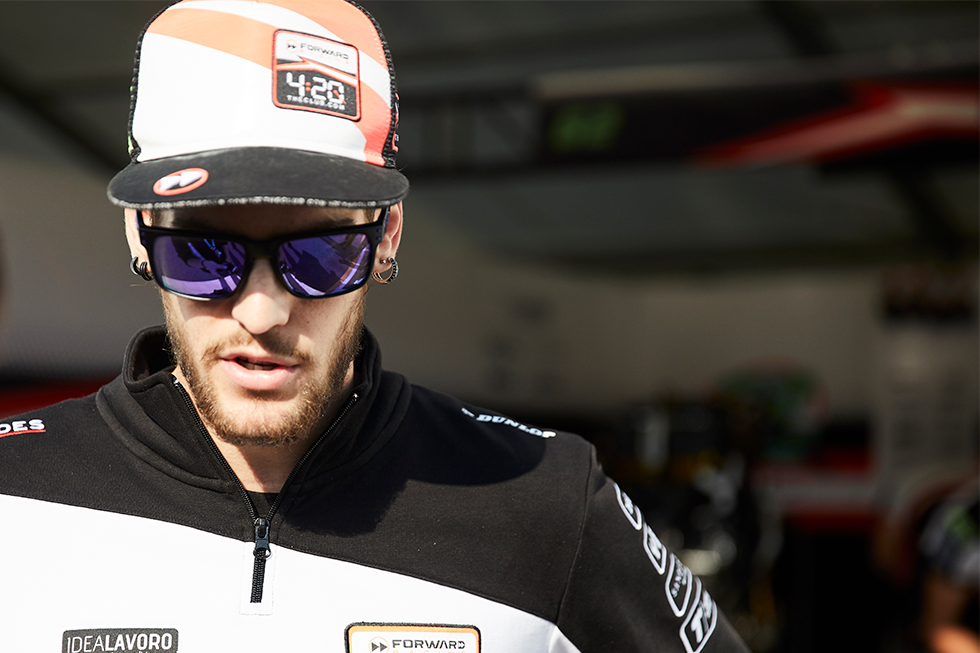 What hasn't changed since childhood
"I love competing. I still have the a lot of passion competing with other riders. I'll always have this passion!"
Bo Bendsneyder (#64)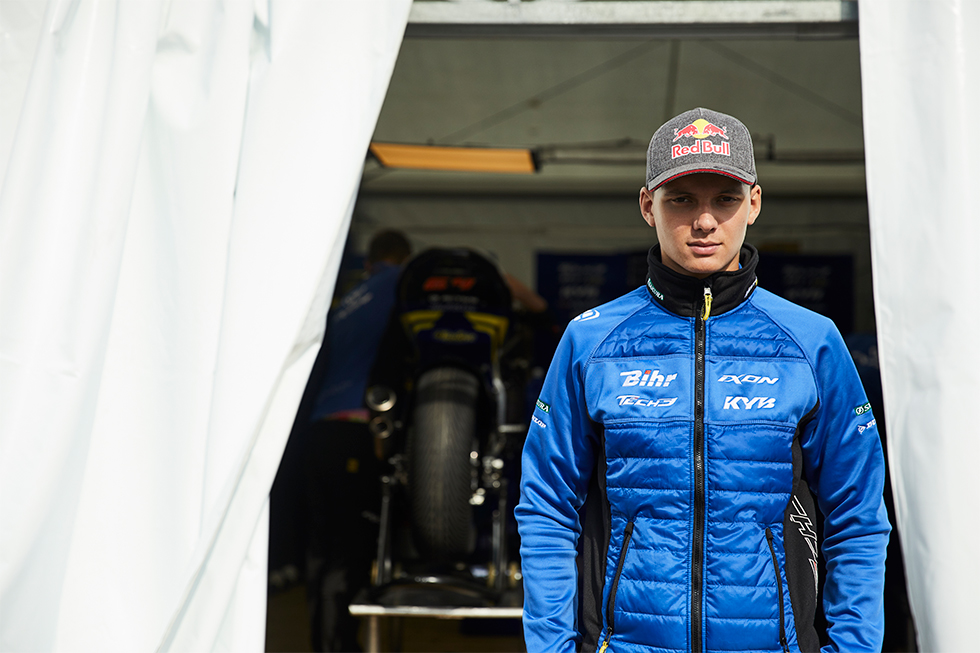 Once Bo Bendsneyder, born in Rotterdam in South Holland, started riding due to his bike-loving father's influence, he went from strength to strength, joining the Moto3 World Championship in 2016, and moving onto the Moto2 class in 2018. Through riding the NSF100, Bo had made his dreams come true.
"My father loved bikes. One day he looked at a pocket bike and apparently decided that's what I would do, so I started riding when I was four or five. First I rode an electric bike, but switched to an engine-powered bike later on."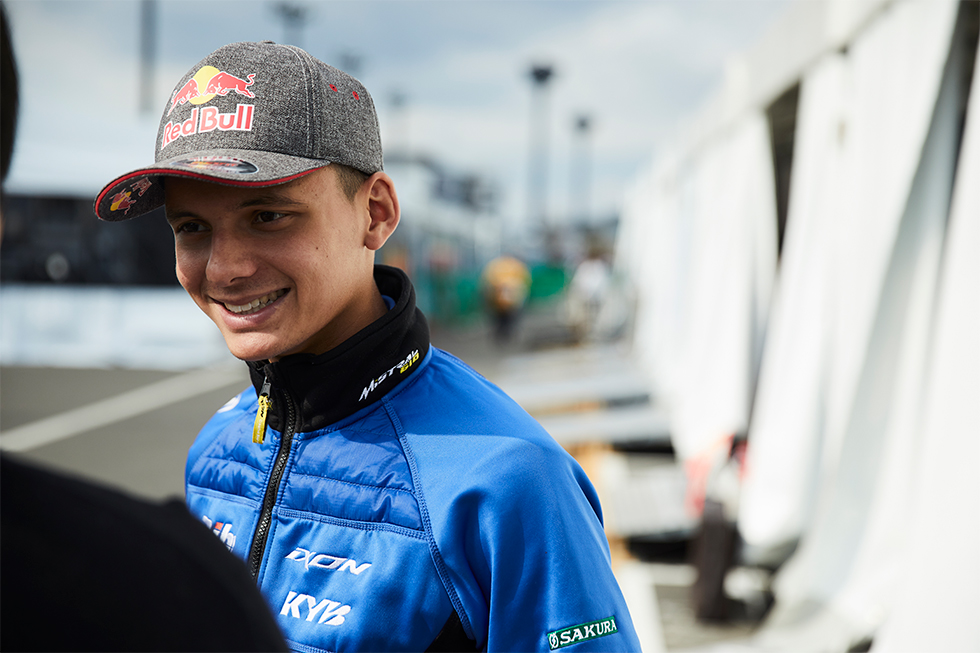 About the NSF100 championship
"The point of the NSF100 championship is that it's all about the rider, and not the bike's performance. Of course you'll win if your bike is faster, but that doesn't happen in the NSF100 championship. It's the best opportunity for young riders to show off their talent."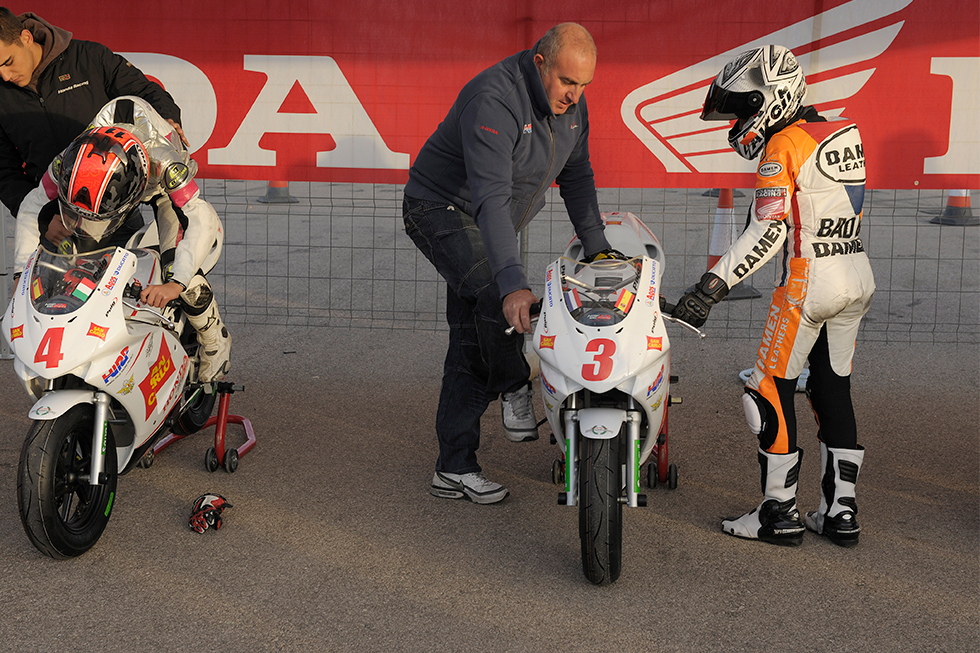 A message for the young rider
"I hope all young NSF100 riders keep on chasing their dreams. Many current Honda riders started off on the NSF100, and went on to Moto3, Moto2 and MotoGP. As long as you keep on going and don't give up, you'll get to the stage you've been dreaming of."
>> IATC
Toshiki Senda (#10), Takuma Matsuyama (#11), Naoki Yamada (#14)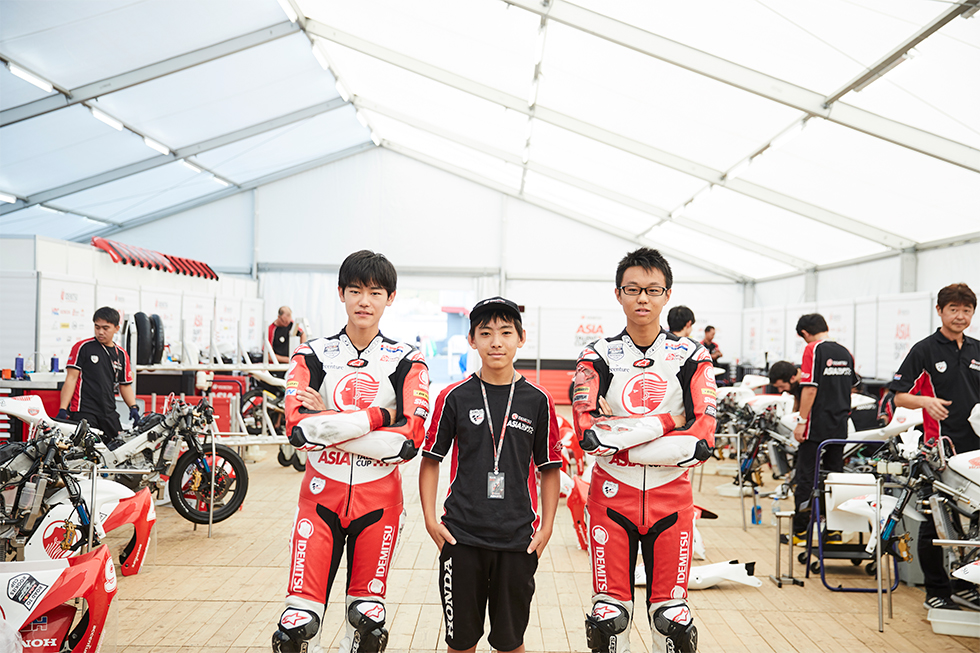 The IDEMITSU Asia Talent Cup (IATC) is a championship series operated by Dorna Sports SL, organizers of MotoGP racing, that begun in 2014 to nurture young riders in the Asia region, including Japan, Indonesia, Malaysia, Thailand, Australia and Turkey, where the popularity of motorcycle motorsports is booming. Meet three young Japanese former-NSF100 riders, who compete in the series now.
Why become a rider?
Senda: "My father was a motorcycle racer. He suggested, or rather convinced, me into starting as well. So, I've been riding since I was very small."
Matsuyama: "My father wanted me to learn something. One day we went to a race track, and seeing pocket bikes for the first time, he thought, 'Wow, my kid has to do this,' and that's how it began."
Yamada: "My father was racing on an NSF100, and I watched him a lot. When I was five, I saw a poster of a pocket bike in a bike shop, and told my parents that there was a bike that I could ride. That's how it started for me."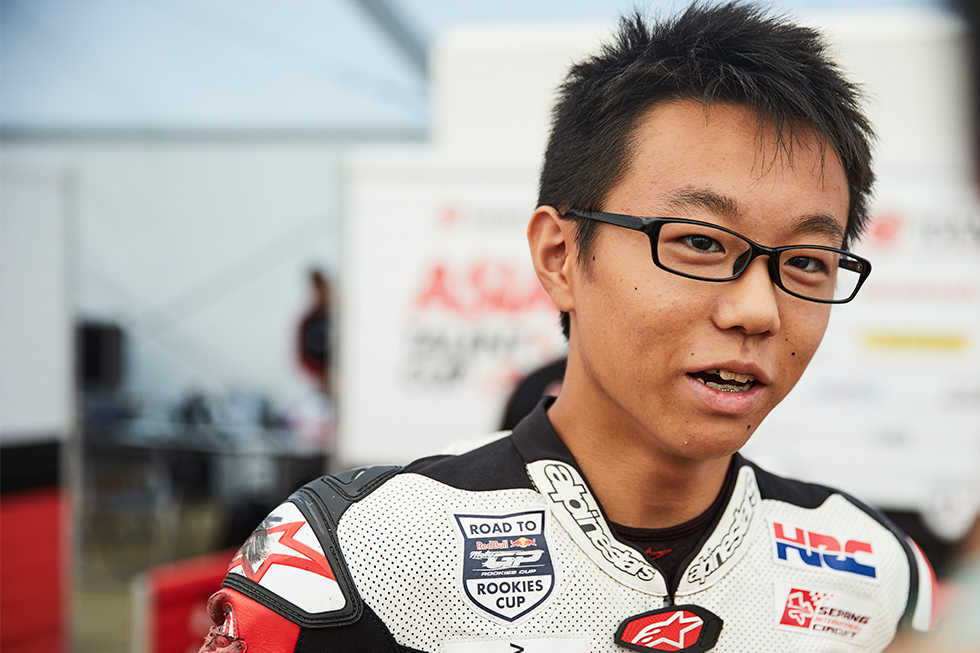 Lessons learned from the NSF100
Senda: "There are a lot of people you can compete with on a pocket bike. I raced Matsuyama in the NSF100 championship, and for me, it was a great opportunity to learn how to compete. He's small, so he's really fast on the straights. I practiced a lot so I could overtake him. I also prayed that he would grow up fast and gain weight."
Matsuyama: "I learned the feeling of always wanting to move forward. I've always braked too late because I want to get ahead, but that causes me to be late on accelerating, and a lot of the time I lose out on top speed. It's because I want to get ahead, but I think I realize my habits because I raced on an NSF100."
Yamada: "I'm the same as Senda. The NSF100 gave us great battle practice. Also when you learn how to control a slide on the NSF100, riding an IATC bike gets a lot easier. There are a lot of things I learned on the NSF100 that I can use now."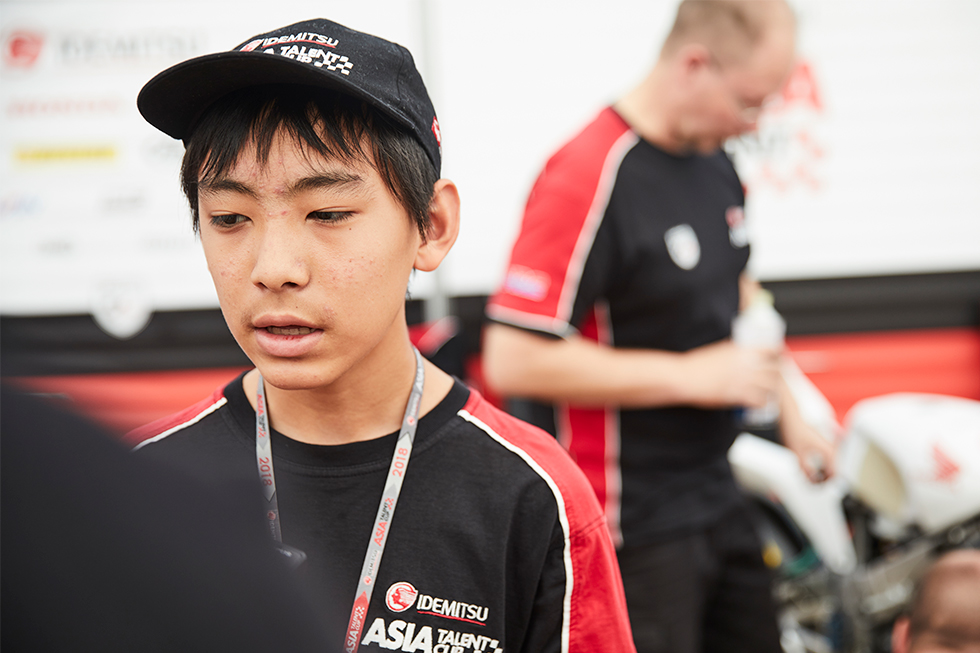 All three riders dream of becoming MotoGP riders. From the NSF100 to Asia, from Asia to the world. It may take a while for them to reach the pinnacle of motorcycle motorsports and race in the MotoGP class, but the passion in their eyes spoke volumes: they would become MotoGP riders.
After the interview, Matsuyama achieved a double-win at the IATC Japan round.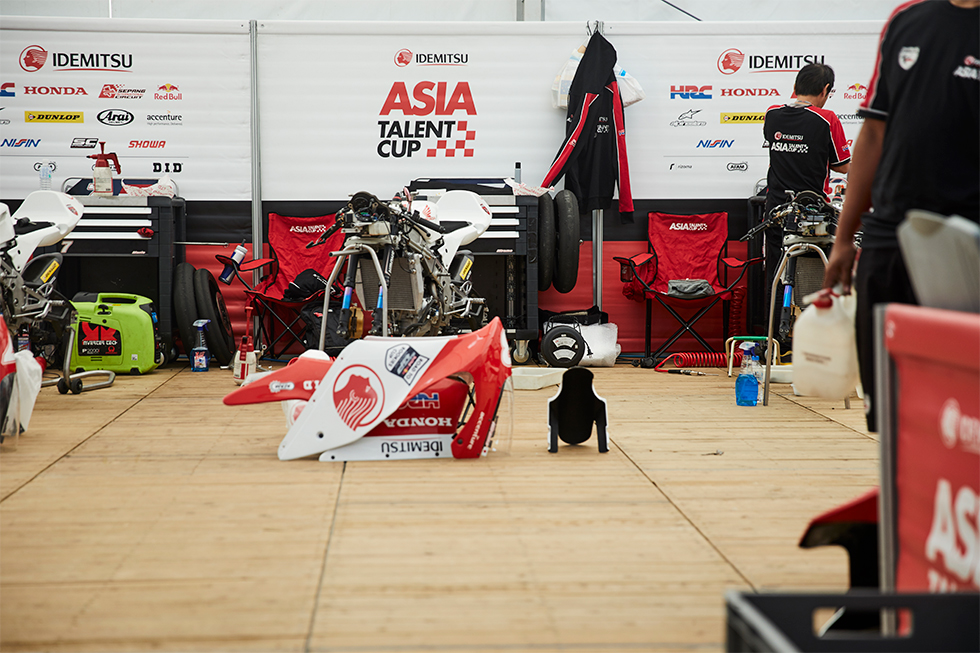 HRC racing motorcycles are made for competition use ONLY, and are NOT covered by warranty and NOT to be ridden on public roads.
All specifications are subject to change without notice.
Please consult your authorized Honda motorcycle dealers.
HRC products are not available in all countries. Please check with your local dealer on parts availability and ordering procedure.