NSF TO THE WORLD -Legend-
The NSF100 and NSF250R were created to help fuel the dreams of all the junior riders striving to compete against the world. The 'NSF TO THE WORLD' concept incapsulates this idea, showing what the hard work of all of our combined efforts at HRC can accomplish alongside these bright young talents. NSF TO THE WORLD T-shirts and stickers are currently provided to all the riders participating in the NSF100 HRC Trophy and the NSF250R Challenge so they can share their passion and show what they are a part of. HRC is here to support junior riders who are flying to the world level.
From 2021, HRC plan to expand the scope of the NSF TO THE WORLD concept to include select NSF series around the world.
The contents of Marc Marquez is as of the time of the interview (February 01, 2019)
MotoGP Legend Moto3 Moto2 IATC NSF Activities in Japan NSF activities around the world NSF TO THE WORLD logo utilization development
Dani Pedrosa – MotoGP Legend
Dani Pedrosa, with 112 MotoGP podiums including 31 wins, became the 29th rider in history to be inducted into the MotoGP Legends Hall of Fame. In spite of his small frame, Dani's riding style on MotoGP monster bikes mesmerised spectators, and earned the love of motorsports fans worldwide. He was often injured, but nonetheless managed to overcome difficulties to fight hard in every race. Dani, MotoGP legend, is another rider in love with the NSF100.
It's the ideal bike for training. Each time I wanted to try out a different riding style, I would first ride the NSF100.
It's easy to set up, so I don't need a mechanic to adjust my bike. I rely on it a lot, because I can use it for testing all season.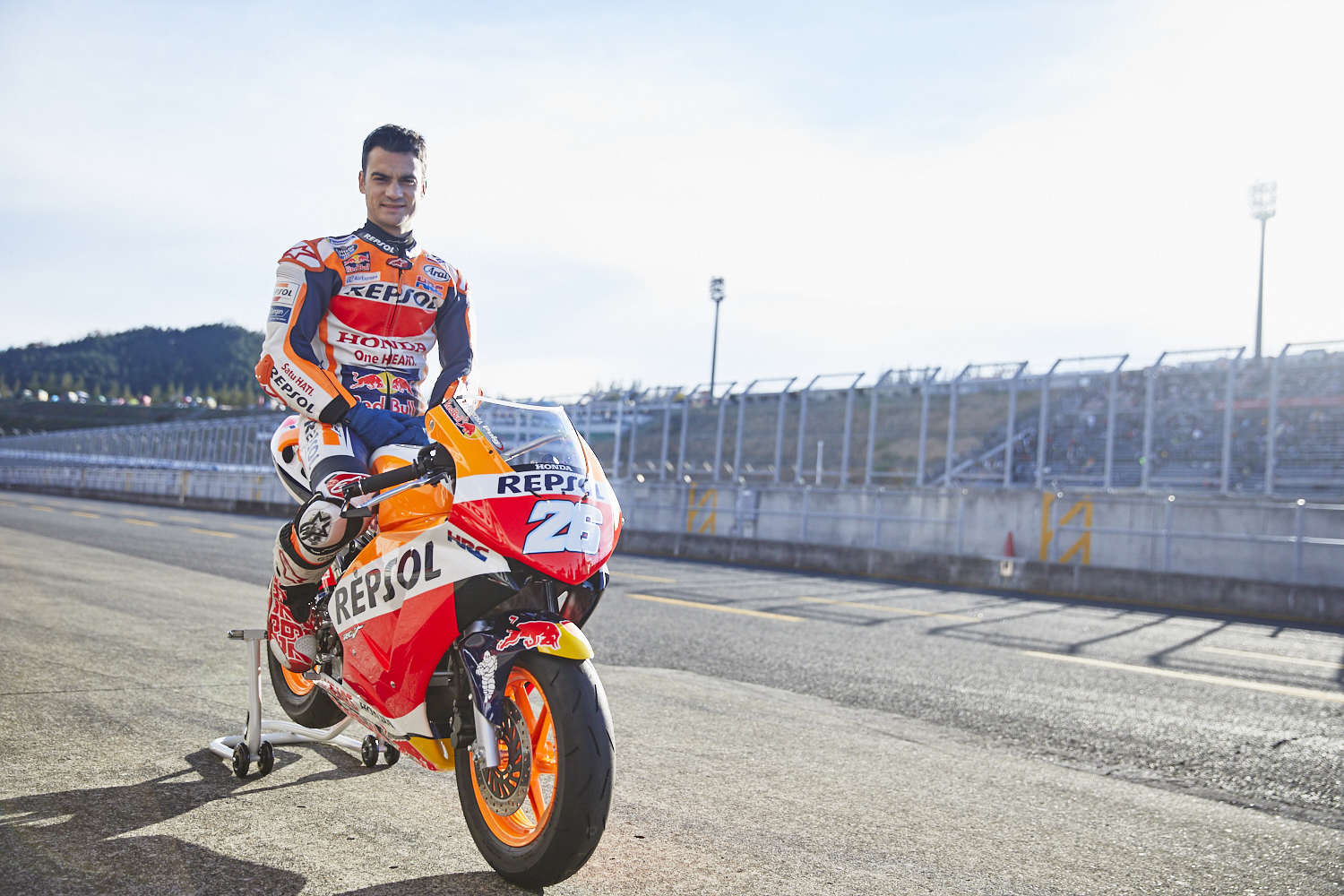 The appeal of the small-displacement, fully-cowled NSF100
Although this bike is small, it has the same gear shift pattern as a MotoGP machine. That's why it's perfect for young riders to learn on. It has a small engine and a low speed range, so you don't have to go to a race track, but can practice at a kart track instead.
A message for riders aspiring to challenge the world
"If you want to compete on the world stage someday, you have to keep on practicing. The most important thing in the world of racing is to keep on pushing, no matter how much you think you have improved your speed and technique. Everyone has different rates of improving, but as long as you keep on dreaming and keep on pushing, I believe that one day, you'll be able to get to where you want to be."
MotoGP Legend Moto3 Moto2 IATC NSF Activities in Japan NSF activities around the world NSF TO THE WORLD logo utilization development
HRC racing motorcycles are made for competition use ONLY, and are NOT covered by warranty and NOT to be ridden on public roads.
All specifications are subject to change without notice.
Please consult your authorized Honda motorcycle dealers.
HRC products are not available in all countries. Please check with your local dealer on parts availability and ordering procedure.